My holiday seems to have been filled with surprisingly little crafting! Though most of it is due to necessarily putting things on hold. I'm going to have to go pictureless for this post since my desktop monitor seems to have gone into a coma, and that's where I store my photos. (On my laptop now.) But I'm starting a few new projects now, so here's what I'm kicking off 2012 with…
1. The winter raincoat. This is still very much in the muslin stage. I'm making a mock-up out of the flannel that I'll eventually be underlining the lining with to check the fit, and I wasn't able to finish cutting it out until today because I somewhat underestimated how much I would actually need (I think the flannel was more narrow than I'd anticipated after washing/drying) and was just short enough that I couldn't squeeze in one sleeve piece. So I had to go back for one more yard, and wash/dry that. I won't actually be sewing on it this afternoon since we've been having some power flickering issues. It's pretty windy here today. (Thus the monitor coma.) So I'm leaving my machine off for now, but maybe I'll start actually basting that together tonight.
2. In the meantime, I'm playing around with the beginnings of my first Anthropologie-inspired recon of the year. I've been eyeing this one for the last couple of weeks….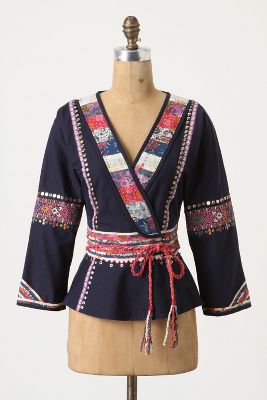 This is the Attapeu Jacket. There's a crazy amount of detail in this one, and so I'm not planning on doing a literal copy of this one like I more or less did with the pants from last summer. But the idea of something bright and colorful is really appealing to me now that we're firmly in the clutches of the blahness that is Mid-Atlantic winter, and I have a couple of pieces in my reconstruction pile that could make a really fun shirt version of this. I'm planning to post this one more step-by-step than I've gotten in the habit of doing, so you'll probably be seeing a lot more of that soon!
3. The Cadence is currently sitting on a bunch of towels in a bathroom, blocking. So hopefully that will be dry in a couple of days and I can actually wear it! In the meantime, I'm going to go to the local yarn store this afternoon before I start teaching and (hopefully) pick something up for that shrug I mentioned in a recent post.
So that's me….what are you doing for your first project(s) of the year?